Contribute to our school and be part of the khair.

"Acquire knowledge and impart it to the people."  Al-Tirmidhi, Hadith 107.
"Seeking knowledge is an obligation upon every Muslim." Sunan Ibn Majah, Hadith 224.
"When a man dies, all his deeds come to an end except for three; an ongoing charity, beneficial knowledge or a righteous offspring who will pray for him." Sahih Muslim.
For over 23 years, the Islamic School of Irving has played a critical role in helping Muslim students in the DFW area develop a strong Muslim identity. The Islamic school of Irving has played an important role in helping cultivate this new generation of leaders who are well-grounded in their religion and committed to serving both God and humanity.

Visit our campaign page at https://www.smore.com/dvnb2 to get to know more about our Ramadan-A-Thon Fundraiser, to keep track of our progress and how you can help the school reach the goal.
Please click on the DONATE link below or scan the QR code to make your contribution directly through Paypal. JazakumAllahu khairan.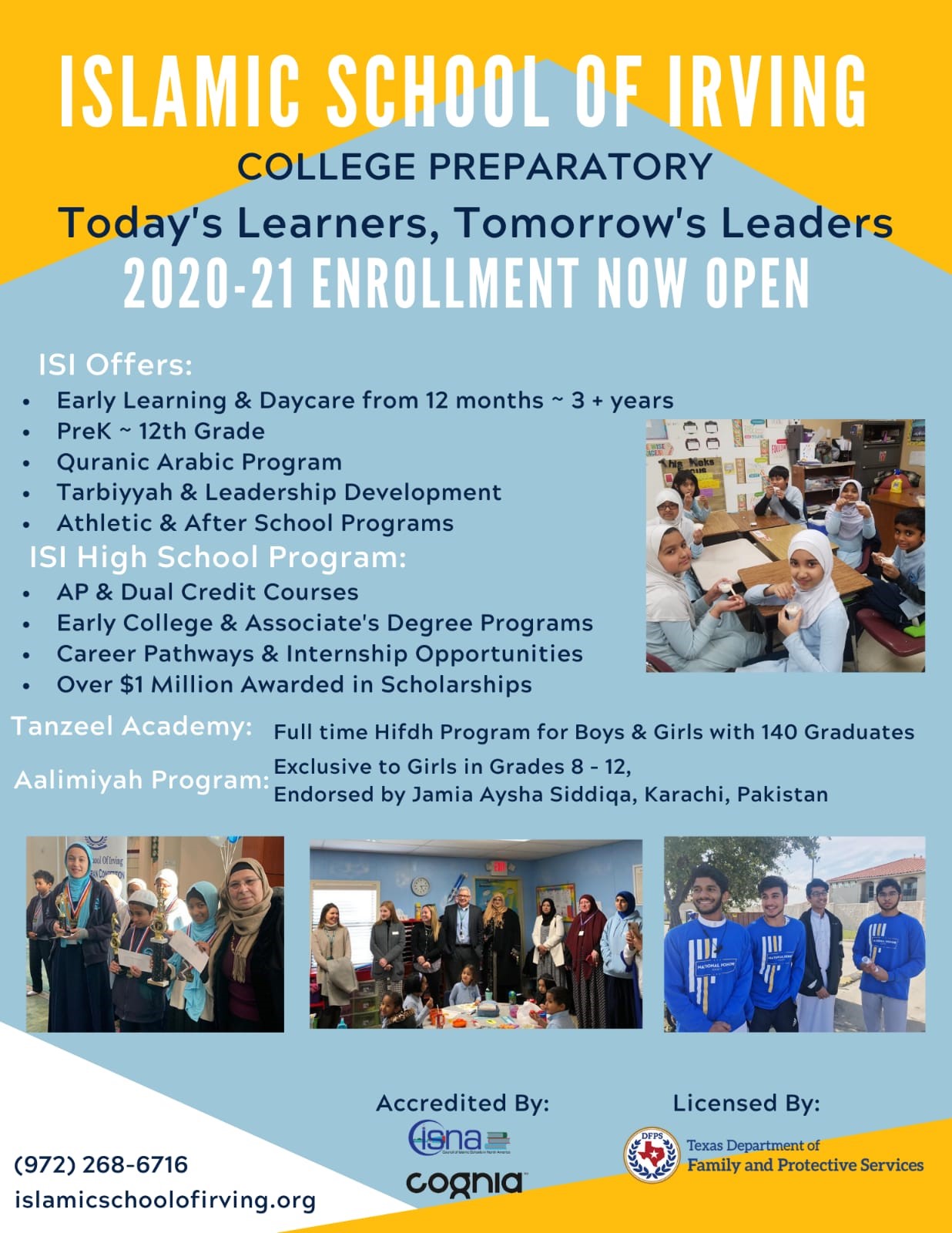 Please follow link below to apply for New Student Enrollment for the 2020-2021 academic year.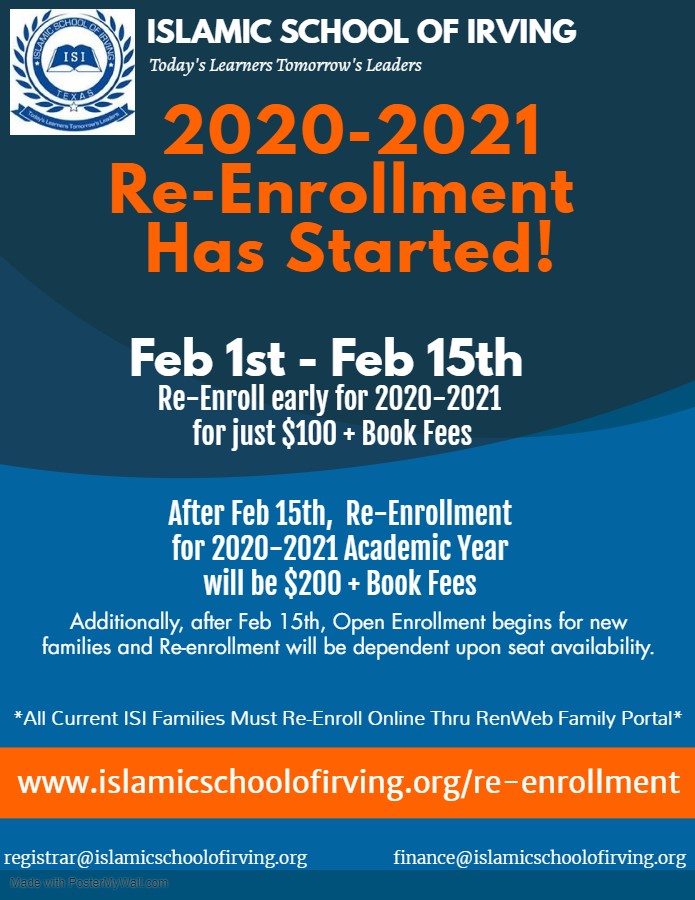 AsSalamualaikum ISI Families,
Re-enrollment for our current students started on February 1st.  Seats are limited, please be sure to re-enroll and secure your child's spot for the 2020-2021 academic year during the Re-enrollment period.
JazakaAllah Khair,
ISI Administration
WHY CHOOSE ISI?
Founded in 1996 The Islamic School of Irving is a preparatory school that serves a diverse, multi-cultural community in the Dallas/Fort Worth Metroplex.
The Islamic School of Irving provides a unique, individualized, accelerated educational program that is shaped by Islamic values and which prepares students for higher learning, leadership, service, and community builders.
ISI was founded on and continues to embody:
Spiritual growth and faith development
Academic excellence in an innovative and creative environment
Formation in a positive and nurturing environment
Commitment to community building and community service
Appreciation of individual uniqueness and value
HISTORY
Alhamdulillah, The Islamic School of Irving (ISI) was officially opened on October 21st, 1996 with the Kindergarten Program. Alhamdulillah, 6 children successfully graduated in July 1997. During the 1997-1998 school year two additional grades (1st and 2nd) were added. During the 1997-1998 school year, ISI graduated 19 students from the different elementary classes. During the 1998-1999 school year, ISI added 3rd grade and school enrollment reached 38. Presently, the enrollment of the school increased to more than 650 students up to the high school. This accomplishment followed years of investigation and planning by the Islamic Center Of Irving and Islamic School Of Irving who sought to establish a high quality of education for Muslim children from Irving and surrounding cities of DFW.
ISI VISION
To be the Islamic school of choice in North Texas weaving academic excellence with highest morals and ethics.
MISSION
To provide our children an environment which will enable them to achieve their highest potential, founded on Islamic morals, scholastic excellence, and good citizenship.
VALUES
Committed balanced Muslims
Knowledgeable scholars
Contributing citizens and community builders
Importance of Faith (Imaan)
Purpose of Prayer (Salah)
Strong Moral Character (Akhlaaq)