The Tarbiya Program is just one of the many wonderful programs that are headed by our Counseling Department. Each month of the year students focus on specifics elements of character and Tarbiya. At ISI our goal is to develop spiritually, emotionally, and academically strong scholars that will lead our local and global communities of tomorrow.
Important Update: School Closure Extended to April 3rd
3/20/2020
Assalamu Alaikum Dear Respected ISI Families,
We pray our email finds you in the best of health and spirit.
Yesterday, Thursday March 19th, an official order from the Texas Governor's office was announced, which requires ALL Schools be closed through April 3rd to help prevent the spread of the Covid-19 disease. This Executive Order includes our school.  Based on the Governor's announcement, ISI will extend the closure of its campus until  Friday April 3rd. The situation will be reassessed after this date to make a decision on what will happen next.

During this period of closure, students will continue to receive their educational instructions on-line as they did this week. Parents will be able to know all the work that is required for their students by accessing their RENWEB ACCOUNTS. You can do so with the following steps:
Log into RenWeb Family Portal
Click on "Student"
Click on "Lesson Plans"
If you need help in accessing your Renweb account please email: techsupport@islamicschoolofirving.org or registrar@islamicschoolofirving.org for assistance.
Our Admin Staff will also be available to respond to any calls or emails and provide help and assistance in anyway possible.
We understand these are difficult times we are all going through, and keeping in mind we are joining our community in standing strong against this threat, we would like to send our heartfelt thanks to our ISI families for all the help they have provided during the first week of on-line learning. Your patience and understanding are really appreciated.
We pray that Allah (subhanahu wa ta'alaa) protect our school, families and all our communities.
Jazakum Allah Khairan
ISI Administration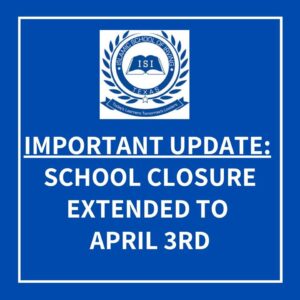 School Closed March 16th - March 20th :: Message Regarding School Closure due to COVID-19
3/13/2020
As-Salaam Alaikum.
In light of the seriousness of the Coronavirus (COVID-19) outbreak, the Islamic School of Irving Board has decided to keep the School closed until March 20, 2020.  With many of our community members having traveled or interacted with travelers during spring break, this closure will serve as a precautionary measure against the further spread of this virus.  Students will participate in online school days Monday, March 16th – Friday, March 20th. Online instructions and an email will follow with details of the online school days. All school events and extra-curricular activities have been cancelled.
The plans for online learning days will be communicated to you by administration and your child's teachers. Administrators, teachers and the school counselor will also be available during online learning days to consult and collaborate about student educational needs. Contact these ISI staff members involved in your child's educational needs by email.
MONDAY, MARCH 20th and BEYOND: TO BE DETERMINED
The ISI School Board and administration will continue to monitor Texas Department of Public Health and the Centers for Disease Control updates and recommendations. The status of school days and extra-curricular events for the remainder of March into April will be communicated with parents and students when decisions are finalized. As much as we would like to think classes will resume on campus on March 23rd, that cannot be guaranteed at this time.
On behalf of Islamic School of Irving, we are grateful for your patience. We will continue to monitor the situation and work with public health officials and community officials. We will communicate with families in the days ahead and keep you posted on updates . No doubt, the situation will continue to evolve. We will make decisions in the best interests of our students' and staff members' safety.
Thank you for keeping those impacted by COVID-19 in your prayers. Stay safe.
May Allah (SWT) protect our families and communities.
The ISI School Board and Administration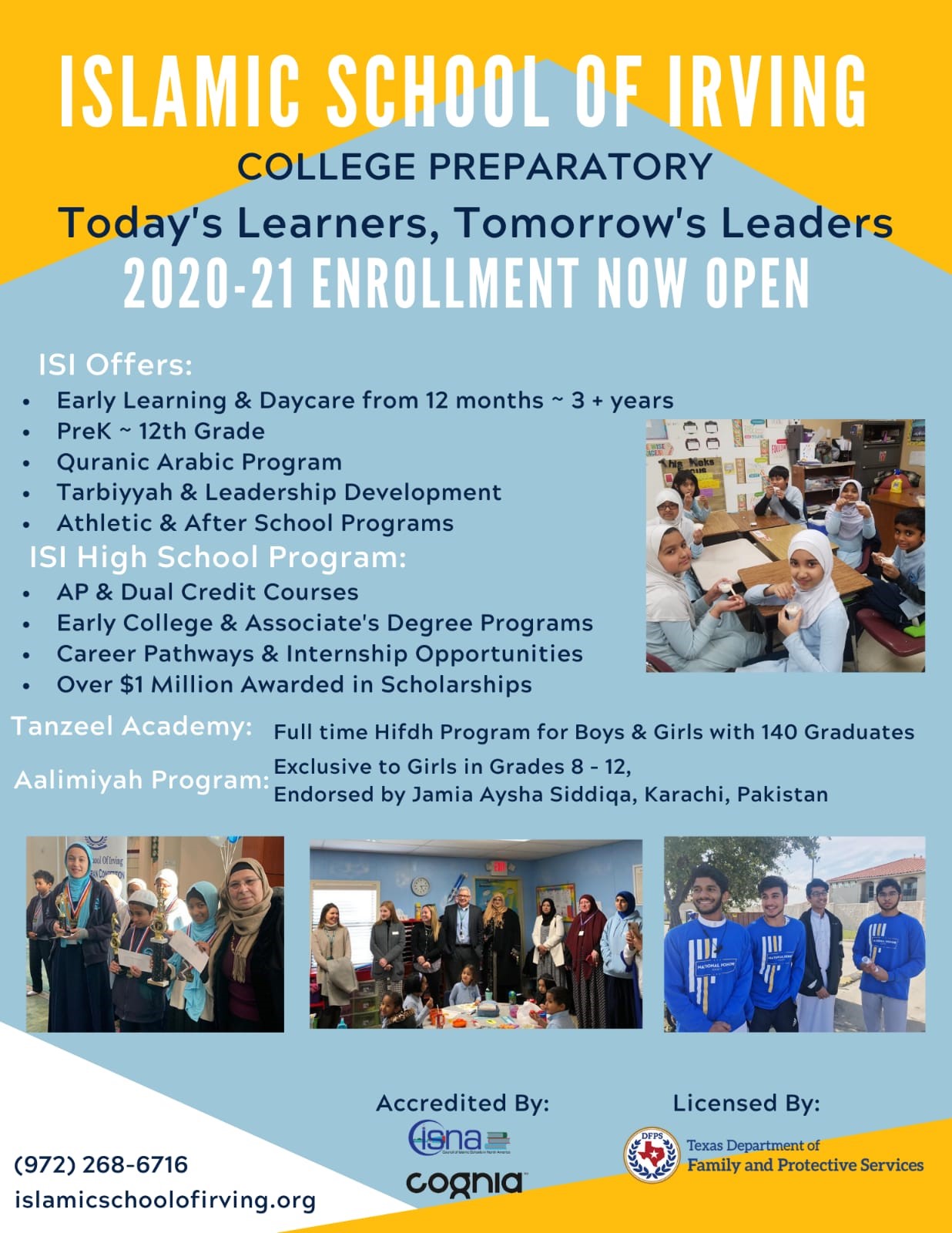 Please follow link below to apply for New Student Enrollment for the 2020-2021 academic year.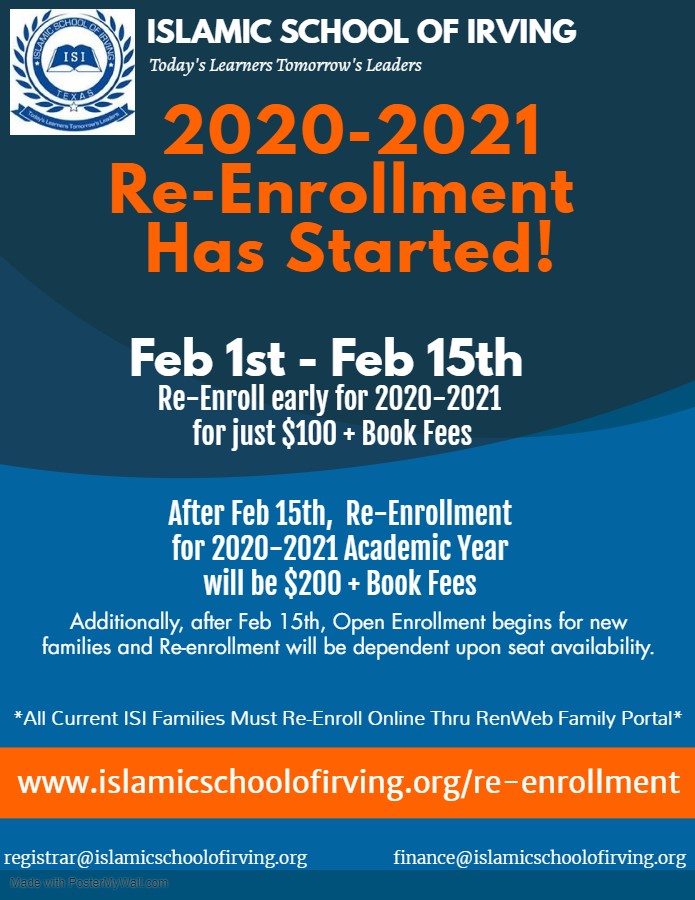 AsSalamualaikum ISI Families,
Re-enrollment for our current students started on February 1st.  Seats are limited, please be sure to re-enroll and secure your child's spot for the 2020-2021 academic year during the Re-enrollment period.
JazakaAllah Khair,
ISI Administration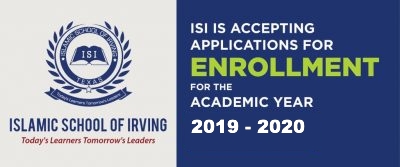 Admission is available for only PK3, PK4, KG, 3rd & 7th grades. All other grades are full and closed.
WHY CHOOSE ISI?
Founded in 1996 The Islamic School of Irving is a preparatory school that serves a diverse, multi-cultural community in the Dallas/Fort Worth Metroplex.
The Islamic School of Irving provides a unique, individualized, accelerated educational program that is shaped by Islamic values and which prepares students for higher learning, leadership, service, and community builders.
ISI was founded on and continues to embody:
Spiritual growth and faith development
Academic excellence in an innovative and creative environment
Formation in a positive and nurturing environment
Commitment to community building and community service
Appreciation of individual uniqueness and value
HISTORY
Alhamdulillah, The Islamic School of Irving (ISI) was officially opened on October 21st, 1996 with the Kindergarten Program. Alhamdulillah, 6 children successfully graduated in July 1997. During the 1997-1998 school year two additional grades (1st and 2nd) were added. During the 1997-1998 school year, ISI graduated 19 students from the different elementary classes. During the 1998-1999 school year, ISI added 3rd grade and school enrollment reached 38. Presently, the enrollment of the school increased to more than 650 students up to the high school. This accomplishment followed years of investigation and planning by the Islamic Center Of Irving and Islamic School Of Irving who sought to establish a high quality of education for Muslim children from Irving and surrounding cities of DFW.
ISI VISION
To be the Islamic school of choice in North Texas weaving academic excellence with highest morals and ethics.
MISSION
To provide our children an environment which will enable them to achieve their highest potential, founded on Islamic morals, scholastic excellence, and good citizenship.
VALUES
Committed balanced Muslims
Knowledgeable scholars
Contributing citizens and community builders
Importance of Faith (Imaan)
Purpose of Prayer (Salah)
Strong Moral Character (Akhlaaq)

ISI Security Upgrade Fund
"Trust in Allah, but tie your camel"
Let us heed the advice of our beloved prophet (PBUH).
Keeping this in mind and taking into consideration the recent acts of violence within our near and far-reaching communities, we are constantly reminded of the evil that exists in the world.  Our beautiful religion teaches us to adopt physical as well as spiritual measures against crimes and calamities. We, at ISI, are calling on all the families to join hands in securing funds for ISI's security.
State of the art door access control system
Door sensors
More cameras
Security blinds
Public announcement intercom system
Be part of the khair and donate!