Summer Hours for Visitors and Tours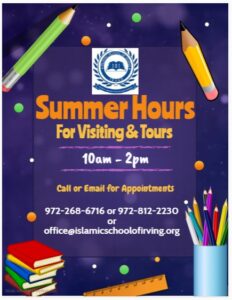 Select Staff will be available on-site in the School Building beginning from June 22nd till the rest of the summer break, Monday thru Friday from 10am until 2pm.
If you would like to visit our school or take a tour during these times, please make an appointment at the following link first:
https://isi-tx.client.renweb.com/oa/inquiry.cfm?memberid=1932
and be sure to follow the listed guidelines below.
By continuing, you acknowledge that you meet the following eligibility criteria and will abide by the rules put in place to be allowed on the premises:
*  Visitor(s) do not have COVID-19, nor has he/she come into contact with a positive COVID-19 person in the past 14 days.
*  Visitor(s) is/are not experiencing any symptoms of sickness, nor does he/she live with someone who is showing symptoms (eg. cough, fever).
*  Visitor(s) are not immunocompromised or at high risk or live with someone who is.
*  Visitor(s) have not traveled out-of-state nor have been visited by someone from out-of-state in the past 14 days.
*  Visitor(s) confirm he/she is between the ages of 5 and 65.
*  Visitor(s) does not have a temperature exceeding 100F. (Temperature will be taken)
*  Visitor(s) must wear a mask and gloves at all times while on the premises.
These criteria and rules are put in place for the health and safety of our visitors as well as our staff.  Your co-operation in this matter is greatly appreciate.