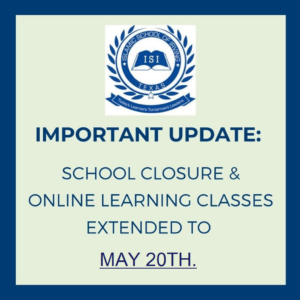 Published Sunday; May 10th, 2020.
AsSalamualaikum ISI parents, students, and staff,
The ISI School Board and Administration hope this message finds you and your family in good health and Emaan.
On Friday, April 17th, Governor Greg Abbot issued an executive order closing all private, public, and higher learning institutes. Although the decision didn't come as a surprise, this isn't the hope that we had for how we end our school year. Based on this executive order, our school will commence our online and distant learning on Friday,  May 15th.  The last day of school will remain as May 20th.  Final grades will be published after the 20th of May inshaAllah.  We will send out more information soon about end of the year ceremonies, graduations and final exams for students.
During this period of closure, students will continue to receive their educational instructions on-line. Parents will be able to know all the work that is required for their students by accessing their RENWEB ACCOUNTS. You can do so with the following steps:
Log into RenWeb Family Portal
Click on "Student"
Click on "Lesson Plans"
If you need help in accessing your Renweb account please email: techsupport@islamicschoolofirving.org or registrar@islamicschoolofirving.org for assistance.
If you need relief from financial hardship due to COVID-19, please refer to https://islamicschoolofirving.org/tuition-fees/ to view the message from our Finance Department.
As a reminder, our Admin Staff will always be available to respond to any calls or emails and provide help and assistance in anyway possible.
We would like to also remind you that our Islamic Advising and Counseling Department. is also still available to speak to our students, families, and staff to offer support during this crisis. If you should need to speak to them directly, please feel free to give Br Yusuf or Sr Danyal a call or write them an email. They will be in contact with you.
Click on the button below to view the contact information for all our admin team.
May Allah (swt) protect and keep our community safe.  Ameen.
ISI School Board and Administration
Academic Year Hours of Operation
School doors open: 7:30am Monday thru Friday
Assembly begins: 7:45am [All students must be present for morning assembly]. Monday thru Friday
Monday – Thursday Dismissal Time: 3:15pm till 3:30pm
Friday Dismissal Time: 12:30pm till 12:45pm
ECH Part Time Students Dismissal Time: 11:45am till 12:00pm Monday thru Friday
Late Pick up Begins at 3:30pm Monday thru Thursday and at 12:45pm on Fridays.  Late kids may be picked up from the School's Main Office.  Parents will be charged $10 per 15 minutes per child for Late Pick Up.  Parents must notify the office by phone or email if they will be late in picking up their children.  Thank you for your understanding.  Jazakum'Allahu Khairan.